In this blog post, we've listed the 7 Best Custom cursors that you can use to add some fun and personality to your computer. These cursors come in various designs, such as rainbow trails, galaxies, neon colors, Mario characters, Pikachu, cupcakes, starry nights, and fidget spinners.
They are easy to install and perfect for anyone who wants to personalize their desktop. Just choose the one that suits your style and enjoy!
1. Elements cursor
Elements cursor is one of the best and latest animated cursors released in 2022. This cursor has 4 variants that are: Fire, Water, Purple, and Green all the variants of this cursor are minimalistic and aesthetic.
This cursor is made by SkyeO84 a DeviantArt user. You can any variant according to your liking…
Download Elements Cursor
2. Anya Cursor
If you are an anime lover, you will fall in love with this cute Anya cursor. This cursor is animated as it shows different animations with different tasks, as shown in the gif below.

About: This cursor is made by a user named omerAWG on DeviantArt it is free to download and use.
Download Anya Cursor
3. Anathema Custom Cursors
This is my favorite cursor for almost a year now. It has special and smooth animations for different tasks.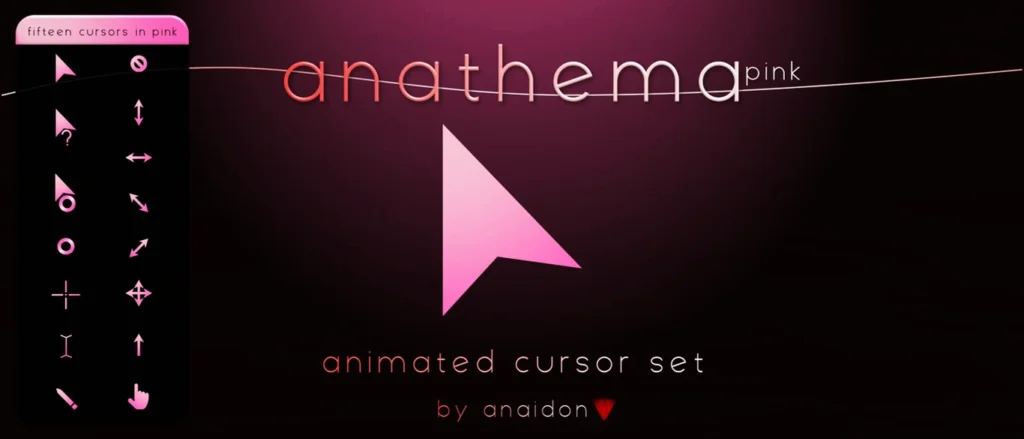 This cursor has four variants (Red, White, Blue, and Pink) made by a user Anaidon-Aserra on DeviantArt. All the cursors are free to download.
Download Anathema White Cursor
Download Anathema Blue Cursor
Download Anathema Red Cursor
Download Anathema Pink Cursor
4. Crystal Clear
Crystal Clear is a mouse cursor theme with a transparent, crystal-like appearance that was created by Everaldo Coelho. It's a popular choice for customizing the look of the mouse cursor on Windows, Mac, and other operating systems.
To install it on your Windows computer, download the cursor and follow the same installation steps as for any other custom cursor theme: Download Crystal Clear Cursor
5. Vision Cursor

The Vision Cursor is a custom cursor pack for Windows computers that changes the appearance of the mouse pointer. It includes a set of cursors with a unique design, such as different shapes, colors, and animations. Users can download and install cursor packs like Vision Cursor to customize their mouse pointer's look.
Download Vision Cursor
6. MacOS Windows Cursors

The macOS Windows Cursor is a custom cursor pack that mimics the macOS mouse pointer for Windows. It can be downloaded from trusted sources, installed on a Windows PC, and set as the default cursor.
Download macOS Cursor
7. Android Material Cursors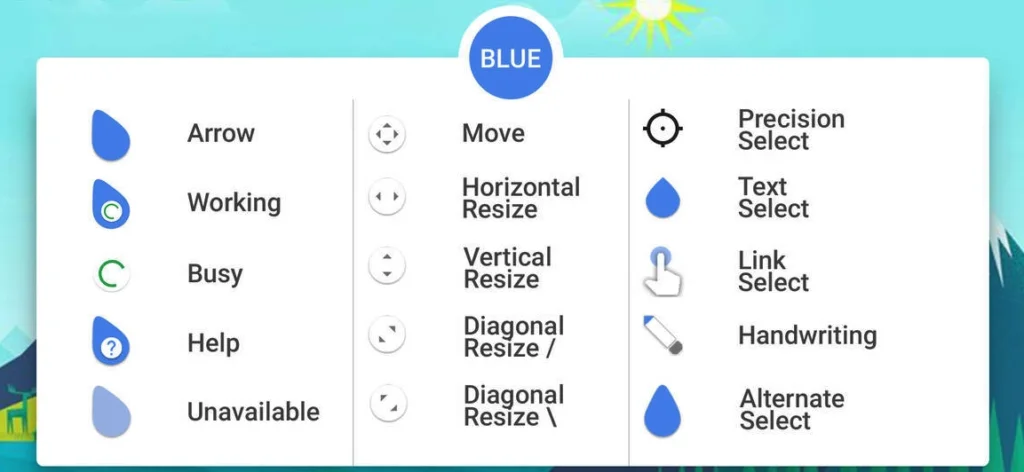 The Android Material Cursor is a custom cursor pack that emulates the cursor style used in Google's Material Design language for Android devices. It provides a set of cursors with a modern and sleek design, inspired by the Material Design aesthetic, which is known for its clean and minimalistic look.
Download Android Material Cursor