Hi, peeps in this article I will be going to show you how to make windows 11 look good and clean. We going to follow 4 steps To complete our windows 11 customization. If you want to customize windows 11 by watching video then you can visit my YouTube channel PosInTech or you can just follow this article. So let's start
How To Make Windows 11 Look Clean?
Requirement:-
Rounded TB
SmartTaskBar
Rainmeter
Rainmeter Mond Skin
Step 1. Rounded TB
Download and Install to download Rounded TB simply visit their official GitHub and download it or you can download it from the Microsoft store.

By installing rounded TB you can customize your taskbar as shown in the picture above. You can adjust the corner radius margin and also some advanced options are available in Rounded TB.
Step 2. Smart TaskBar
Download and Install Smart Taskbar you can download Smart TaskBar simply by visiting their official GitHub.
How SmartTaskBar Help Us?
SmartTaskbar helps windows to automatically hide the taskbar when the full-screen task is running as shown in this gif down below
You don't have to do any settings in SmartTaskBar just install and run it that's all. Now let's get to the third step.
Step 3. Change Wallpaper
Now time to change the wallpaper of our desktop.
If you want the same wallpaper as shown in this article thumbnail then click on DOWNLOAD.
You can just set any of your favorite wallpaper that you like or you can search for animated landscape wallpaper 4k on google and download the image that you like.
.
Step 4. Rainmeter and Rainmeter Skin
Download and Install Rainmeter.
Download the rainmeter software first simply download it from their official website that is rainmeter.net. And then install.
Now time to add an awesome widget that helps us to show dates and time that looks so awesome.
To do that download the Ranimeter mond theme from here: Theme and install it
Open Rainmeter then you'll see windows like the picture below.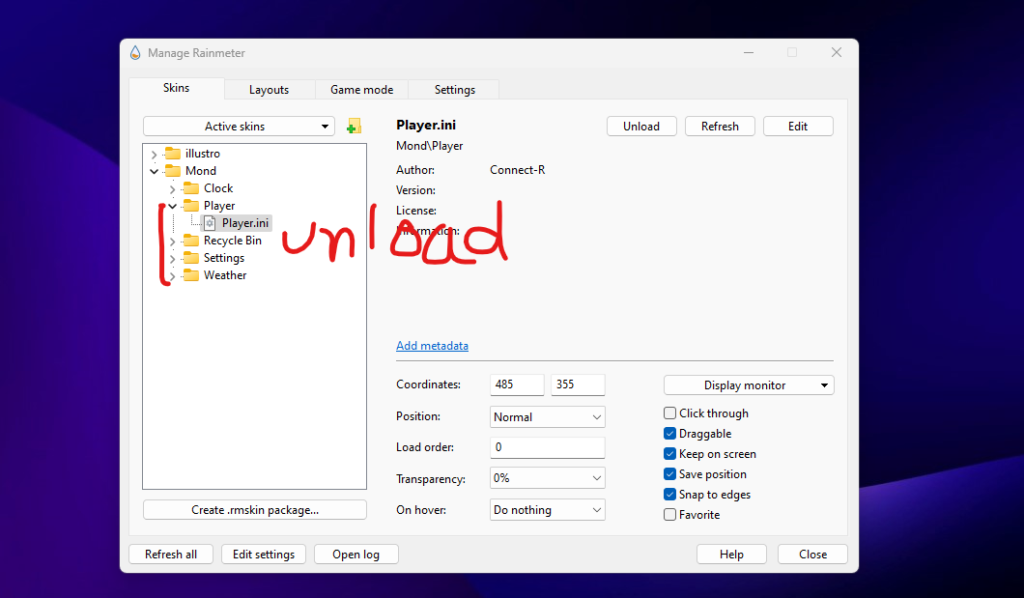 After opening, unload all preloaded skins (If already loaded) by right-clicking it and then click on unload except the clock.
Place the clock in the center of your desktop screen.
To change the color of the clock go to folder Mond>Settings and then double click on the setting.ini and change it as you want. (The color used in this article thumbnail Is #FFBA80FF)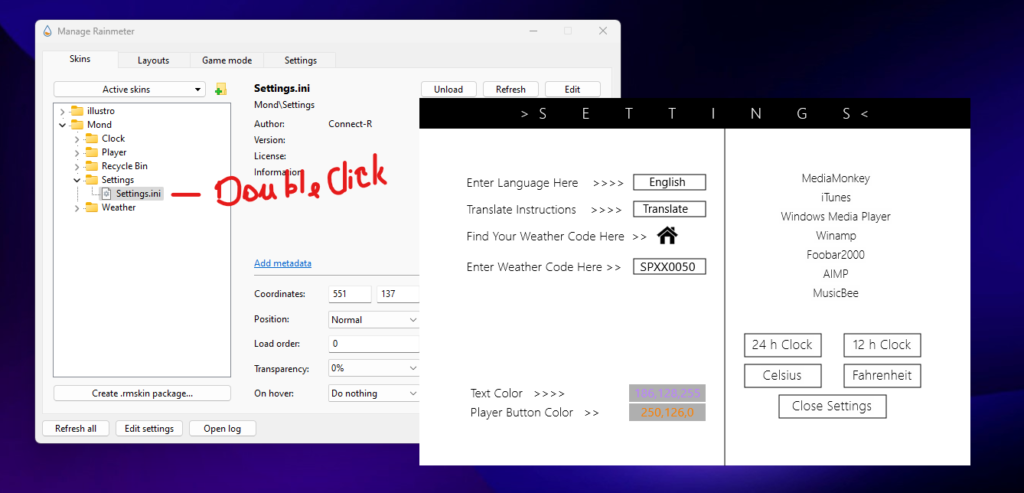 Congratulations!
You have successfully given a minimalist to your desktop. Here's the Final result💕. If you having any kind of problem doing all these things I suggest you watch my YouTube Video. Thanks for Reading this article😘. Subscribe to my Youtube channel to watch awesome customization content.
Explore More from Us! :
Make your Windows 11 Desktop look cool and professional